SNOWIE: Seeded and Natural Orographic Wintertime Clouds, the Idaho Experiment
CSWR is currently participating in the SNOWIE project, which is occurring from January through March 2017. DOW6 and DOW7 are currently parked at the top of two mountains in central Idaho, where they are observing the dynamical and microphysical processes inherent to winter mountain precipitation. SNOWIE also seeks to understand how cloud seeding with silver iodide (AgI) modifies the amount and distribution of snowfall in mountainous terrain. The Idaho Power Company already maintains an operational cloud seeding program in the region using both aircraft and ground generators. During a cloud seeding event, silver iodide is released directly into winter storms, with the hope that snowfall totals are ultimately increased. The increase in snowfall benefits both agriculture and hydroelectric power generation by increasing spring snowmelt. The DOWs, together with the University of Wyoming King Air research aircraft, are taking observations of the AgI plume during cloud seeding events to determing their effectiveness. The project is a joint effort between researchers from three different universities, the National Science Foundation, the National Centers for Atmospheric Research, and the Idaho Power Company.

Please be sure to visit our newly created SNOWIE Project Page for more info!
MARVELOUS: Mobile Atmospheric Research Vehicles for Enhanced Learning, Opportunities for Undergraduate Students
DOW8 participated in the MARVELOUS education project, an opportunity for meteorology students from St. Cloud State University in central Minnesota to get real, hands-on experience with a mobile weather radar.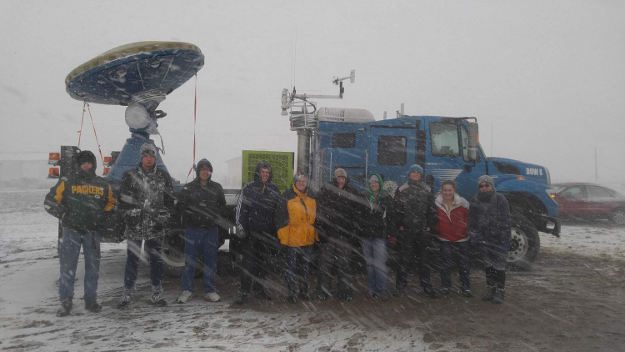 TWIRL: Tornadic Winds, In situ and Radar observation at Low levels
From May 1 to June 22 2016, CSWR participated in the TWIRL project. The CSWR fleet was deployed to Tornado Alley to study the kinematics and thermodynamics of tornadic supercells. CSWR vehicles covered over 10,000 miles of the central United States in search of tornadoes, and were present during many of the major tornadic events of the season, including the Sulpher-Wynnewood, OK tornadoes on May 9, and the Dodge City, KS tornadic outbreak on May 24.

You can read more about the project by visiting http://www.cswr.org/contents/twirl.php.
CSWR participated in the OLYMPEX project: Nov 2015 - Jan 2016
CSWR crew, numerous graduate students and DOW6 were stationed on banks of Lake Quinault in the state of Washington to measure cold-season mountain precipitation patterns.

More information can be found at http://olympex.atmos.washington.edu/.
CSWR participated in the MASCRAD project: Nov 2015 - Apr 2016
CSWR crew, students from CSU and CSWR's Mobile Operations and Repair Center (MORC) were stationed in an airfield near Greeley, CO to periodically launch radiosondes during cold-season upslope precipitation events.

More information about the MASCRAD project can be found at
https://www.engr.colostate.edu/~notaros/research/research.htm#_MASCRAD_Snow_Field.
CSWR was featured in the May 18, 2015 episode of the National Science Foundation's Science Nation.
Learn more about the types of research done by CSWR, both in and out of the field.
CSWR participated in the PECAN (Plains Elevated Convection At Night) field project from June 1 - July 15, 2015.
PECAN was one of the largest meteorology experiments ever attempted in the central United States. It was sponsored by the National Science Foundation (NSF), the National Oceanographic and Atmospheric Administration (NOAA), National Aeronautical and Space Administration (NASA), and the Department Of Energy (DOE). The scientific goal of the project was to collect data before and during nighttime severe storms in order to learn how they form, why some become severe, and how to predict them better.

To learn more about the PECAN project, please visit pecan15.org.
Three well-respected storm chasers, Tim and Paul Samaras and Carl Young, were killed while attempting to deploy instrumentation in the El Reno, Oklahoma tornado of 31 May 2013. A Weather Channel crew was also injured. CSWR's published analysis of this tornado (by team leaders Josh Wurman and Karen Kosiba and collaborators) reveals that an intense internal sub-vortex impacted the Samaras team and The Weather Channel crew, exposing them to winds of up to 150-200 mph, transporting their vehicles after they had penetrated through the weaker northern side of the extremely large tornado. While the tornado was rated EF-3 based on sparse damage, the National Science Foundation (NSF)-supported Rapid-Scan DOW measurements revealed winds near 300 mph (~300 feet AGL) at times, in intense, very small and very rapidly moving sub-vortices.
Drs. Karen Kosiba of CSWR and Greg Forbes of The Weather Channel discuss the El Reno tornado of 2013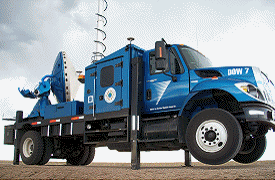 The Center for Severe Weather Research (CSWR) operates the Doppler on Wheels (DOW) mobile radar network, consisting of two dual-polarization, dual-frequency mobile radars and one multi-beam, rapid scan radar, several mobile mesonet vehicles and 20 in-situ weather PODs as a National Science Foundation (NSF) facility. Researchers and faculty can request the DOWs and other instrumentation for their projects.
The DOW radar facility has served the NSF community as part of the LAOF program since 2008. Prior to then, the DOWs operated as a de facto NSF-community resource, participating in many scientific and educational field programs not led by the DOW PI. The DOWs have been among the most widely used facilities, participating in over 30 field campaigns since VORTEX1. DOWs have been requested for several planned future field programs [e.g., PECAN (2015), SNOWIE (2015/2016), Victoria (2016), RELAMPAGO (2016) and OLYMPEX-NSF (2015)]. DOWs have been the most frequently requested and allocated LAOF facility for education and outreach, have deployed at 18 universities, and participated in extensive nationwide outreach tours impacting over 100,000 students.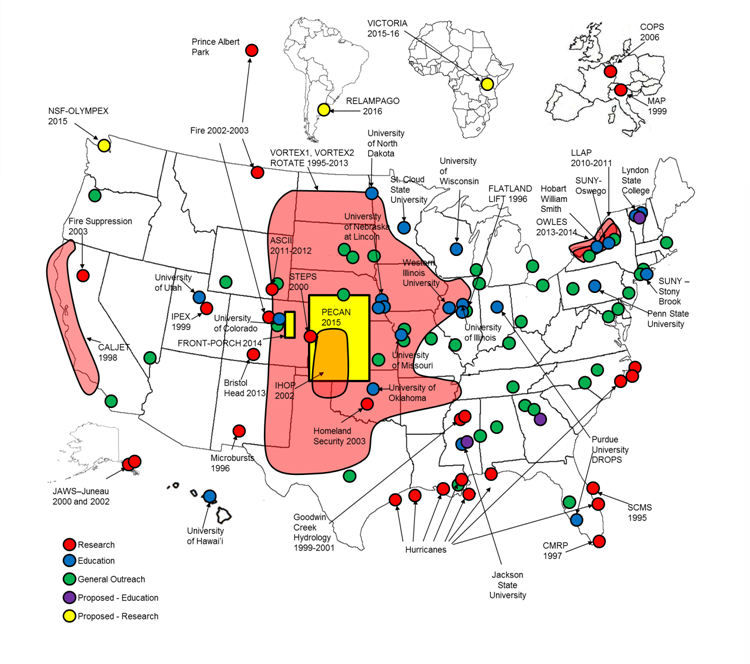 CSWR is engaged in research investigating tornadogenesis, tornado structure, hurricane boundary layers and surface wind damage, as well as radar technology. CSWR has also played a major role in VORTEX2, COPS, IHOP, STEP, IPEX, PAMREX and other projects. Here is a list of related CSWR publications.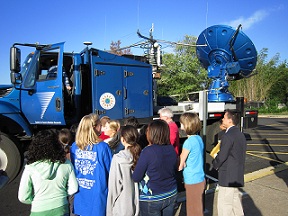 CSWR is committed to the advancement of radar meteorology education. Additionally, CSWR maintains close collaborations with both Pennsylvania State University and the University of Colorado. Here is a list of educational projects in which CSWR has been involved.

A list of articles pertaining to CSWR and related projects.

Meet Our Staff and Contact Information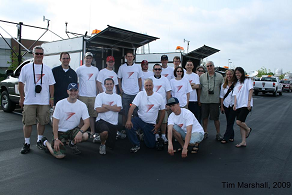 Information about our staff, location and contact information.

VORTEX2: Can we warn tornadoes 30, 40, 60 minutes ahead?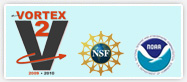 VORTEX2 is by far the largest and most ambitious effort ever made to understand tornadoes.